Healthcare Cybersecurity Summit
Prevention is Better Than the Cure
Join us to learn:
How detection-based security systems are failing
Common attack types in today's threat landscape
Breach prevention strategies for healthcare professionals
How to deal with the expanded attack surface
How to overcome patching challenges
Healthcare is under cyber siege.
Successful cyberattacks keep escalating, and healthcare organizations are attacked at double the rate of other industries.
In 2020, more than 1 in 5 Americans' healthcare providers suffered a cyberattack.
In 2021, 27 percent of patients said if their healthcare provider was breached and their data was exposed they would switch providers.
Healthcare and pharmaceutical firms are especially vulnerable to cyber attacks given the sensitive information they hold and the critical services they provide.
Don't be just another statistic.
Join our panel of peers and experts on June 1st from 12-2pm ET as we address the threats and security needs of the healthcare industry.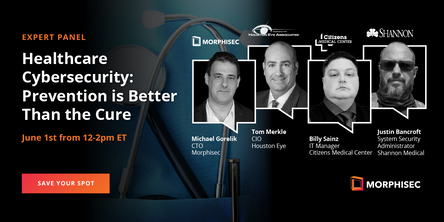 Sponsored by: